THE MAINTENANCE OF YOUR FACILITIES

RECOGNIZED KNOW-HOW
For over 10 years, Maser Engineering has been a major player in the maintenance and works associated with boarding bridges, aircraft station equipment and baggage sorting. In order to meet the requirements of all French airports, we are committed to a dynamic QSE policy with teams that are always reactive and available 7 days a week, 24 hours a day.
Our offer covers full-service, preventive, corrective and improving maintenance of airport installations and also ensures all the work associated with equipment of all types: electronic, electromechanical, hydraulic, mechanical, etc.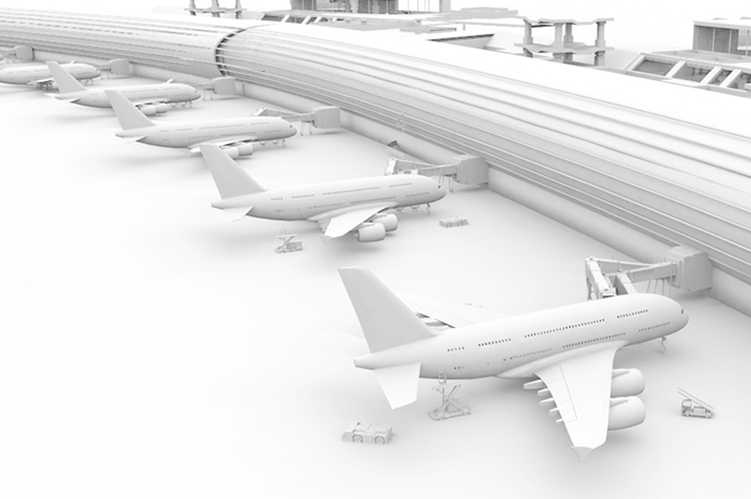 BOARDING BRIDGES  
AND AIRCRAFT STATION EQUIPMENT
Maser Engineering, the French boarding bridge maintenance leader, ensures a perfect mastery of the procedures and regulations applicable in the largest French airports. Our teams also carry out work on your aircraft station equipment.
Telescopic boarding bridges
400 Hz converters
PCA system
Cables
Canopies
Air conditioning
Slides
Guide sights
Collision systems
HARDWARE,

METAL WORK AND SHEET METAL WORK
Maser Engineering manufactures metal parts and structures adapted to your needs in order to reinforce the safety of your installations.
Terminals,
Aircraft stations,
Luggage sorting,
Parking,
Buildings
BAGGAGE SORTING SYSTEMS
Maser Engineering has developed a know-how in the installation of conveying and baggage sorting systems adapted to airport security and reliability constraints.
Conveyors,
Carousels,
Sorters
GSE EQUIPMENT

(GROUND SERVICE EQUIPMENT)
Baggage & container handling,
Aircraft supply,
Aircraft movement,
Road equipment
The preventive maintenance of our boarding bridges has been awarded to Maser Engineering since 2015. Since then, a genuine professional relationship has been created between our companies. Their technical expertise, reactivity and proactiveness make it possible for us to satisfy our customers every day.
Their arrival on the hardware market allows us to expand our collaboration and achieve our objectives on time and within budget.
Arthur CATIMEL, Terminal and Safety Equipment Manager,
Côte d'Azur Airport
ADP Group has awarded Maser Engineering the maintenance of PARIS CDG's telescopic boarding bridges for several years, due in particular to the professionalism of its staff, their constant commitment and their availability. The strength of a large group allows Maser Engineering to react quickly to peaks in activity and unexpected needs.
The services requested, in various fields such as mechanics, hydraulics, electricity, and hardware, are processed in full and within the requested deadlines. Maser Engineering is highly versatile in providing "turnkey" services at controlled and competitive costs and does everything it can to meet its commitments.
Laurent MARECHAL, Aircraft station equipment maintenance,
ADP Group
FIND OUT MORE ABOUT
OUR TRAINING EXPERTISE